With Vink System Design & Analysis I (Jaap Vink) provide engineering services to companies. I specialize in precision mechanics and am an experienced and result-oriented partner in the development of complex opto-mechanical and mechatronic systems where high accuracy is required.
To perform regular or specialist mechanical calculations and analyes, I have developed a toolkit with software programs and a spreadsheet. You can download and use these.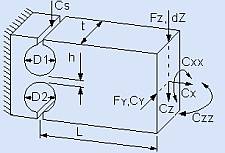 With the free FlexHinge program, you can quickly calculate the stiffness and material stress of a flexure hinge. It performs all calculations automatically.
I'm using FlexBeam to support my classes as a mechanical design teacher at a Technical School – Javier, Spain
I have downloaded your program and have confirmed that your Hertz Contact Stress calculation matches what I have been using. I believe that HertzWin will be helpful in quickly checking my hand calculations – Michael, USA (Pennsylvania)
I can only be positive about FlexBeam, very practical! – Philippe, Belgium
I have been a user of your FlexHinge software for the past few years and have found it very useful – Joey, USA
We have tested FlexBeam Pro and are very happy with it – Jaap, The Netherlands
I would like to thank you for your program HerzWin. It is really easy to use it and it has really nice visualization – Frantisek, Czech Republic
With the program HertzWin you can calculate Hertz point and line contacts. The influence of a tangential load can also be calculated. HertzWin has been available online for free since March 2009. In older releases of HertzWin (prior to release 3.1.2) a general...
read more