With Vink System Design & Analysis I (Jaap Vink) provide engineering services to companies. I specialize in precision mechanics and am an experienced and result-oriented partner in the development of complex opto-mechanical and mechatronic systems where high accuracy is required.
To perform regular or specialist mechanical calculations and analyes, I have developed a toolkit with software programs and a spreadsheet. You can download and use these.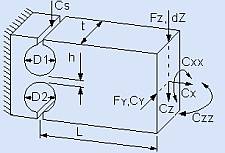 With the free FlexHinge program, you can quickly calculate the stiffness and material stress of a flexure hinge. It performs all calculations automatically.
I'm using FlexBeam to support my classes as a mechanical design teacher at a Technical School – Javier, Spain
I have downloaded your program and have confirmed that your Hertz Contact Stress calculation matches what I have been using. I believe that HertzWin will be helpful in quickly checking my hand calculations – Michael, USA (Pennsylvania)
I can only be positive about FlexBeam, very practical! – Philippe, Belgium
I have been a user of your FlexHinge software for the past few years and have found it very useful – Joey, USA
We have tested FlexBeam Pro and are very happy with it – Jaap, The Netherlands
I would like to thank you for your program HerzWin. It is really easy to use it and it has really nice visualization – Frantisek, Czech Republic
In the article 'step plan tolerance analysis', the steps to achieve a good tolerance analysis are briefly summarized. In the articles that followed, the method of adding tolerances is discussed. Much attention was paid to the statistics of dimensional variations of...
read more